Exciting news!
New data dashboards for the S2 are being developed and close to being deployed, and if you have an S2 with a 'Pro' subscription then you will be able to dive even deeper into the many modes that the S2 can track.
As a teaser, if you have an S2 device, I thought I would offer to show you the split of modes within the current "Two Wheeler" category. As you know, for historical technical reasons, we combine cycles and motorbikes into one of our four standard categories which is then shown to all users. However, the S2 is able to distinguish differences between these modes and count them separately.
Here's the deal.
If you have an S2 (even if you don't have the 'Pro' option), leave a reply below with a link to your location. You need to include your guess as to the % split between "cycles" and "motorbikes" that you would expect from your data for the last month.
I will then find the actual reported data and share it here for you.
Here's my data as an example.
My device: Telraam | Waldram Park Road
Estimate (% of cyclists): 50%
Here's the actual data: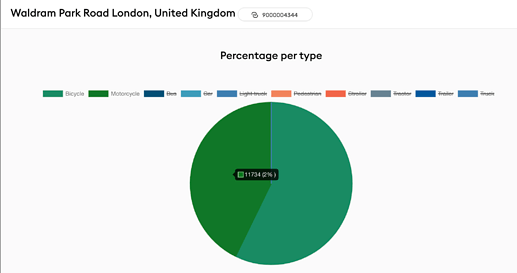 Actual split: 57% cycle, 43% motorbike