Hello everyone,
Very happy with my S2 device and data coming from it in Oxford UK.
I do note occasionally though some slight concerns in accuracy, for example here on just today's data there looks like the suggestion of an artifact in car/HV binning.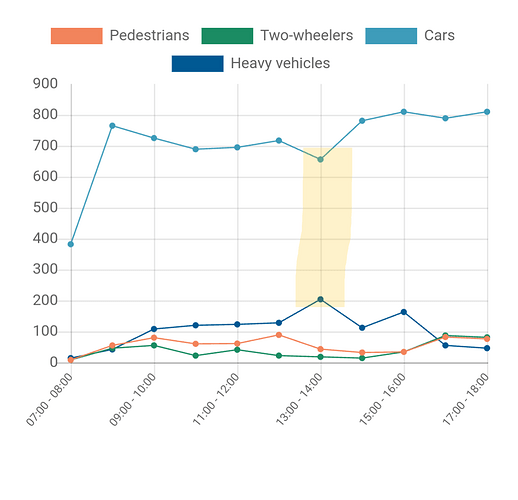 And then looking at V85 speeds there is matching suggestion of artifactual high value at the same time:
<Can't embed more than one bit of media, see reply below>
This has me a little worried that errors in speed, vehicle length and hence vehicle binning are correlated because of the method used (time to move one self-length). You'll note that counts are pretty high at this site so we are not short of measurements.
In parallel I have been thinking that it would be straightforward of me to provide the device with reasonably accurate distances across the ROI at different vertical pixel coordinates.
I appreciate that the emphasis is on building as simple a device/method as possible but it strikes me that a little optional device-host-supplied info could improve accuracy.
Best regards,
Danny