On behalf of Mobiel 21 we wish you all a happy heathy new year with good vibes on the road! It's that time again when a lot of us make resolutions for the new year. Maybe you want to start exercising? Get through your reading list? Plan more activities with family and friends? … Or maybe you hate making resolutions and you just want to enjoy 2023? That's all fine. But when it comes to mobility, our planet needs some more good intentions. And we happen to have two low-threshold challenges anyone can try out!
1. 30 dagen minder wagen / 30 days without car
Last year more than 6.500 people in Belgium (Flanders) choose to leave their cars parked for at least 30 days. The campaign is an initiative of Netwerk Duurzame Mobiliteit and its members, including Mobiel 21. This year, we're aiming to double the participants! Everyone who wants to join the challenge will get regular inspiration with sustainable promotions, and this time you will be able to compete in a group of family, friends, or colleagues. You simply have to register on the website: Homepage | 30 dagen minder wagen. And you can already start the challenge now by reading this recently launched e-book packed with helpful car-free tips and tricks!
2. Car-Free Sunday
A second good intention for the new year is to experience more car-free days! Because it's good for the ears, heart, and lungs and it's just a lot of fun. J Therefore we sent a new year's wish for a great Car-Free Sunday in 2023 to all public administrations. But you don't have to wait for your administration to fire into action. You as citizens can also initiate a Car-Free (Sun)day. There's a range of possibilities from requesting a play street to urging your administration to organize a bigger event. Get inspired with our DIY guide and keep us posted!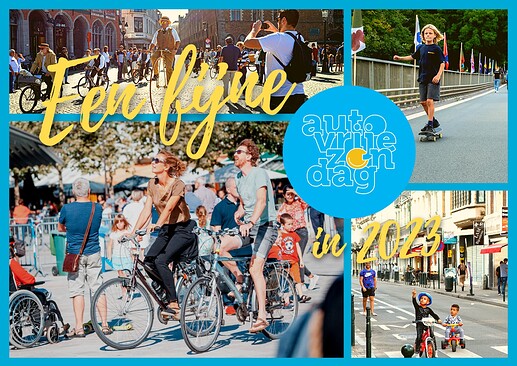 What is your mobility resolution for 2023?
What is mobility?
What is a resolution?
New Year's resolutions are lame, I'm not participating!
No idea yet, I came here for inspiration…
I definitely have some mobility resolutions for 2023 and I will share them in the comments!!!