Trees and plants increase the attractiveness and liveability of urban streets. They turn grey street canyons into streets with shade, colourful flowers, buzzing insects and maybe even the pleasant tunes of birds signing.






Several Flemish cities have initiatives to help citizens make their street greener. One of the better-known possibilities in this regard are groenslingers (lit. green garlands).
To make a groenslinger, two houses on opposite sides of a street remove one tile from the sidewalk. Here, a vine or other climbing plant is planted. At first, it simply grows up along the wall. Then, when they reach the first floor, both plants are guided to the other side of the road with a horizontal metal cable. When the plants meet halfway above the street, they create a green garland from side to side. This usually takes about two years.
A new garland in Ghent. Still needs some growth before it is complete.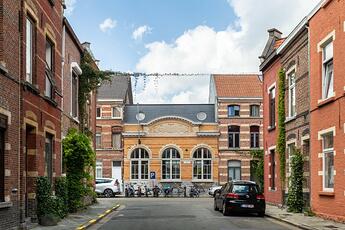 A mature garland in Antwerp.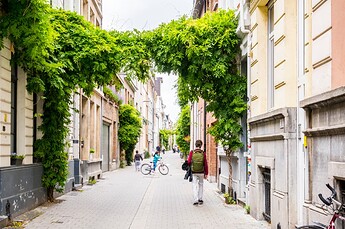 Your own groenslinger?
When two neighbours agree to connect their houses with a groenslinger, a professional from the city comes to remove the tiles from the sidewalk and to install the cable. Depending on the city you live in, the plants themselves are either provided by the city too, or are to be bought by the citizens themselves. Maintenance of the green garland (e.g. pruning and clipping) is done by the city.
All in all, it's a low-cost but high-impact way of greening a grey street. Especially when there is not enough space for trees to grow big. The only thing you need? Neighbours who share your love of plants

Does your street have greenery? Are there examples in your city or town of grey streets that have turned green in recent years? Besides groenslingers, what other low-cost options are there to bring nature into residential streets?