We're expecting a chilly week in Belgium with temperatures below zero. I'am hoping for some snow fun this weekend to get in the early Christmas mood. But some cyclists might be less enthusiastic about the slippery roads ahead. It is a fact that cycling in winter is slightly more challenging than in other seasons.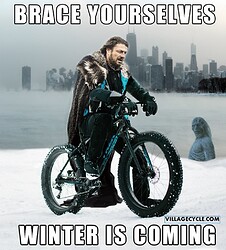 Braving the cold and dark days… Maybe you prefer to stay warm on the bus, train, metro or in the car? But for some, nothing beats admiring the snowy landscape from the bike saddle! Cycling in the winter and even in the snow is perfectly possible. Just listen to this podcast about how they do it in Helsinki, a place where it is much darker and colder than here: Henna Hovi on Winter Cycling in Helsinki | Geert Kloppenburg
And luckily here in Belgium you don't need winter tires on your bike. But there are some simple adjustments you can do to make your bike winter ready. The cyclists union (Fietserbond) sums it up very nicely in this article: Fiets winterklaar met de tips van Fietsenmaker Michaël
Also Ghent police summarized some great tips from Pro Vélo and Velotariër to get their residents feeling more safe and comfortable on their bike these days: Veilig fietsen in de winter | Gent
They conclude the article with the best advice:
"And above all… enjoy the winter charms of the bicycle or e-bike: a healthy blush on your cheeks, the beautiful winter scenes, no queuing in traffic jams, and you burn calories too. Extra convenient during the holidays ;-)"
Are you guys still cycling? Do you take any extra precautions? And are there any noticeable differences in your traffic counts? We'd love to hear about it!
Do you still cycle in freezing temperatures?