Combined mobility, in which different means of transport are combined to reach a certain destination, is becoming more and more popular among commuters who want to leave their car behind.
One spectacular example of this trend is Antwerp's Waterbus, which had its best year yet with no less than 774.000 passengers in 2022.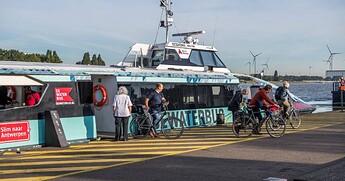 De Waterbus is a ferry service on the river Scheldt that connects a few villages south of Antwerp to the city centre, and onwards from there to the industrial port area north of the city. The ferry has one line, with a total of eight stops on both banks of the river. The ferry service actively caters to commuters who want to avoid the infamous traffic jams in and around Antwerp. People can bring their bikes onboard, so they can easily continue their journey by bike after hopping off the ferry.
For Flanders, the combination of boat and bike is quite a unique form of combined mobility. And, in my opinion, also one of the most exciting. Just imagine feeling the water drops on your face and seeing the sun rise across the river as part of your everyday morning commute…

For my own commute, I sadly do not use a ferry…
Instead, I use three traditional modes of transport to get from Antwerp to Leuven:
Cycling (from apartment to train station)
Train (from Antwerpen to Leuven)
Walking (from train station to the office)
What does your commute look like?
Which interesting modes of transport do you combine to get to work?